A NOVEL ... OF CURRENT BIBLICAL PROPORTIONS.
Author Biography -
DJ Edmonston
DJ Edmonston was born in Boston Massachusetts. Having a love of architecture he attended Blue Hills Technical Institute (later becoming a division of Massasoit Community College) for architectural design. He soon changed programs and pursued his other gifting and passion, art and illustration. In 1991, he relocated to Orlando, Florida where he merged and pursued a three-fold passion for art, architectural design, and illustration. The result was a successful freelance business as an architectural illustrator providing conceptual artwork to market development projects throughout the Southern U.S. and the Caribbean. In March of 1991 DJ had a spiritual encounter with Jesus Christ that would change his life forever. In 1996 and 1997 he felt the call to attend International Theological Seminary and served as a youth Minister at a local church, and later at International Seminary's campus church. DJ later worked for various architectural firms in Central Florida, Miami, and the U.S. Virgin Islands. His artistic talents and career have evolved over the years, creating concept art, book covers, marketing art, and finally into writing. He has completed the writing of the first two books in The Veil series and plans at least three more as well as illustrating a series of graphic novels based on the series. He continues to live, work and play in Central Florida with his family, enjoying the warm climate and the local beaches.
Editor Biography -
Rick Brown
I feel led to share the background and biography of my friend and Editor Rick. He has played such an important role not only in this project but in my life as well. He is a source of inspiration and encouragement to all who know him and is a great writer himself. I look forward to great things from him in the future. Rick Brown is a native of Jamaica W.I. who migrated to the U.S. and was naturalized as a citizen. He is the husband of a lovely and devoted wife whose only request was to include the fact that she "loves him very much" in this bio. They have four children between them along with three grandchildren. He has a love for life and people which results in many interests, but passions include writing and editing. Rick comments, "The Veil novel series provides me with a perfect opportunity to be part of a literary vision that was meant for such a time as this. This series represents a genre that is unlike any other. The future is filled with a renewed hope as Christ accomplishes his will through individuals for this unique Republic and the world. I am grateful to my friend DJ who responded to the God given vision that was placed in him, and to include me in this effort."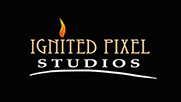 WWW.ENTERTHEVEIL.COM - the online home of 'THE VEIL' novel series.
All Images and Content are Copyright 2013-2015 DJ Edmonston/ Ignited Pixel Studios and may not be used without written consent.